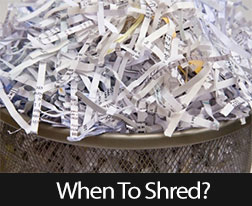 How do you know what happens to your documents when you put a piece of paper in the trash? It can be difficult to know who is seeing it and what they are doing with it. It isn't very common to burn trash anymore; therefore you can be sure that your paper garbage or recycling is likely to pass through several hands on its way to a landfill or recycling center.
Step–By–Step, Your Documents Can Get Pilfered
Every step that occurs once the trash leaves your control has risk that someone will find personal information they can use to cause you harm. One way to safeguard personal information is to shred it before it goes into the trash.
Shredding devices are available at most office supply stores. Cross-cut shredders provide more security than strip-cut shredders. You may want to consider one depending on your level of concern. Shredding services or shredding events are often offered by financial institutions or community organizations.
Properly destroying sensitive personal information is a key step in helping to keep your identity secure. You really should shred any documents containing personal information, but be cautious not to shred financial documents that you may still need.
To Shred Or Not To Shred, That Is The Question…Or Maybe It's When To Shred
The Better Business Bureau offers these guidelines on when to shred:
Deposit, ATM, credit, and debit card receipts can be shredded once the transaction appears on your statement
Canceled checks, credit card statements, and bank statements with no long-term significance can go through the shredder after one year; if used to support tax returns, keep them for seven years
Monthly bill statements can be shredded one year after receiving, to allow for year-to-year bill comparisons (another good way to monitor your budget!)
Credit card contracts and loan agreements should be saved for as long as the account is active
Pay stubs can be shredded yearly after reconciling with your W-2 or other tax forms
Documentation of investment purchases or sales should be kept for as long as you own the investment and then seven years after that; shred monthly investment account statements annually after reconciling with a year-end statement
Always shred documents with Social Security numbers, birth dates, PIN numbers or passwords, financial information, contracts or letters with signatures, pre-approved credit card applications, medical and dental bills, travel itineraries, and used airline tickets.