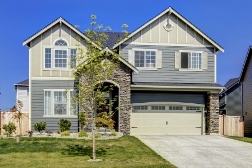 The National Association of Homebuilders (NAHB) Wells Fargo Housing Market Index reported that homebuilder confidence in sales conditions for single-family homes declined one point to a reading of 57. The NAHB Housing Market Index measures home builder confidence based on builder opinions of current market conditions, future market conditions and buyer foot traffic in new homes.
Home Builder Confidence Stable for Seven Consecutive Months
January's index reading of 57 was one point below December's reading of 58. Any index reading above 50 indicates that more home builders are confident about housing market conditions than not. January's reading was the seventh consecutive reading above 50. NAHB said that builder confidence in future market conditions slipped by four points to a reading of 60; builder confidence in current housing market conditions was unchanged at a reading of 62 and the reading for buyer foot traffic fell two points for a January reading of 44.
David Crowe, NAHB chief economist, cited improving labor markets, stronger economic conditions and higher consumer confidence as factors that contributed to January's reading. In addition, analysts said that certain economic trends including higher rents and low mortgage rates may compel more renters to buy homes. Although pent-up demand contributed to buyer interest in recent months, restrictive mortgage credit policies are seen as a deterrent to higher sales volume. Builder confidence in home sales conditions would likely improve if the government can ease lender concerns about providing mortgages to buyers who don't have strong credit scores.
Housing Market Index Indicates Room for Growth
In spite of strong builder confidence, there's plenty of room for improvement in markets for new single-family homes. As of November, the sales pace for new homes was approximately 41 percent below the average pace for the last 20 years; housing starts for the same period were approximately 24 percent below the average for the prior 20 years. The Department of Commerce reported that housing starts were 24 percent below the 20 year average. This suggests that while borrowers are confident in housing market conditions overall, they may be taking a conservative approach on building new homes until more buyers enter the market.
This week's upcoming housing-related reports will help determine the overall climate for housing market growth. Existing home sales and housing starts for December will be released along with FHFA's home price report for November.