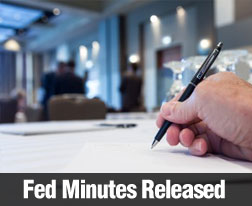 Minutes of the Federal Open Market Committee (FOMC) meeting held January 27 and 28 were released on Wednesday. According to the minute's transcript, it appears that Fed policymakers are in no hurry to raise the target federal funds rate. Members said that raising rates too soon could swamp the strengthening economy and expressed concerns that changing the committee's current "patient" stance on rising rates could cause more harm than good to current economic conditions.
FOMC members discussed the Fed's use of the word "patient" in its guidance, and said that dropping the word could incorrectly suggest that the Fed is planning to act sooner than later on raising the Fed's target interest rates, and could result in "undesirably tight" financial conditions. While a majority of members agreed on protecting current economic conditions by raising rates too soon, member viewpoints varied on which conditions would support the first rate hike.
Target Inflation Rate of Two Percent "Most Consistent" with Fed's Statutory Mandate
According to the Federal Reserve's statutory mandate supplied by Congress, the Fed seeks to provide maximum employment, price stability and moderate long-term interest rates. The Fed established a target inflation rate of 2.00percent as a benchmark for economic health, but inflation has remained consistently below the target rate according to the annualized index reading for personal consumption expenditures.
FOMC members did not set a target rate for annual unemployment; FOMC members cited unpredictable "non-monetary factors that affect the structure and dynamics of the labor market" as reasons why it's impossible establish an accurate target percentage rate for national unemployment. The minutes caution that these factors are sufficiently unpredictable that they may cause the Fed to revise or reverse its policies concerning national unemployment readings.
Committee members noted that short-term fluctuations in the federal funds rate could be expected. The minutes indicated that in general, day-to-day fluctuations outside of the Fed's target range were not surprising as historical data indicated that such changes had "few if any implications for overall financial conditions or the aggregate economy."
FOMC members agreed that the economy had expanded at a solid pace, but noted that inflation had fallen due to rapid decreases in fuel prices.
Fed/FOMC Chair Janet Yellen did not hold a post-meeting press conference at the conclusion of January's FOMC meeting; she is scheduled to hold a press conference at the conclusion of the next FOMC meeting on March 18, 2015.