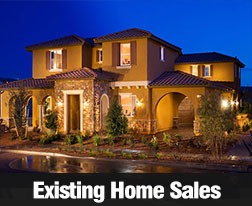 The NAR provided great year-end news as existing home sales in December pushed 2013 sales of existing homes to a 7 year high. December's reading of 4.86 sales of pre-owned homes came in at 4.87 million on a seasonally adjusted annual basis.
Although projections had been for 4.89 million sales, the December reading topped November's revised sales of 4.82 million pre-owned homes.
December's reading showed the first gain in existing home sales in three months. NAR reported that existing home sales for 2013 reached 5.09 million, which represented a 9.10 percent increase over 2012.
More Good News: Median Price Of Existing Homes Rises
NAR reported that the national median price for pre-owned homes increased to $198,000, a year-over-year increase of 9.90 percent. The average price of an existing home for all of 2013 was $197,100. This was the strongest growth in existing home prices since 2005 and represented an increase of 11.50 percent.
There were 1.86 million pre-owned homes for sale in December. At current sales rates, this represents a 4.60 month inventory. Real estate pros like to see a minimum of a six-month supply of available homes, so existing homes remain in short supply.
Analysts attributed rising home prices to improving economic conditions and a persistent shortage of homes for sale.
FHFA: Slower Gain for Home Prices In November
FHFA, the agency that oversees Fannie Mae and Freddie Mac, reported that November prices of homes financed with mortgages owned or guaranteed by the two agencies rose by a seasonally adjusted 0.10 percent as compared to October's increase of 0.50 percent and an expected growth rate of 0.40 percent.
November's reading brought year-over-year home sales to an increase of 7.60 percent, but is still 8.90 percent below their April 2007 peak.
Analysts noted that recent reports of increasing new home construction and rising new home sales as reasons why prices of existing homes are seeing slower growth.