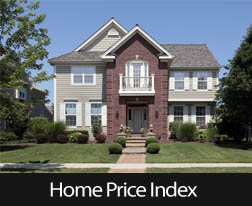 Two major indicators of home price trends showed a slowing momentum for home prices in December. The S&P Case Shiller 10 and 20 city indices reported that of 20 cities tracked, home prices were lower in December than for November.
Case-Shiller's seasonally adjusted month-to month reading showed that home prices rose by 0.8 percent as compared to 0.90 percent in November.
David Blitzer, chairman of the index committee at S&P Dow Jones Indices, said that "Gains are slowing from month-to-month and the strongest part of home price recovery may be over." He also noted that seasonally adjusted data was showing a loss of momentum for home prices.
December home prices posted a year-over-year gain of 13.40 percent, down from November's year-over-year reading of 13.70 percent. December's reading reflected the highest year-over-year increase in home prices since 2005.
Analysts note that a slower pace of increasing home prices may allow more buyers to enter the market, and may also encourage more buyers to list their properties for sale. This would increase inventories of available homes and relieve pent-up demand for homes.
Although home price growth is cooling off, average home prices remain 20 percent below their pre-recession peak in 2006.
Home Prices Face Challenges In 2014
Another factor in slower growth of home prices is regional differences in the rate of economic recovery. Cities including Dallas, Texas and Denver, Colorado recently set records for escalating home prices.
Five states including Florida and Michigan accounted for almost half of foreclosures completed during 2013. Slow job growth and poor winter weather were also blamed for slower gains in home prices.
New mortgage rules and relatively strict mortgage lending standards may continue to dampen housing markets, but there is some good news as some lenders are easing credit standards.
FHFA: Home Prices Higher For 10th Consecutive Quarter
The Federal Housing Finance Administration reported similar trends in December home price data for properties either financed or owned by Fannie Mae or Freddie Mac.
Home prices rose by a seasonally adjusted rate of 0.80 percent in December as compared to November's reading. Home prices were 7.70 percent higher for the fourth quarter of 2013 than for the same period in 2012. Adjusted for inflation, this reading indicates an approximate year-over-year increase of 7 percent.
FHFA reported higher readings for 38 states in its fourth quarter 2013 Home Price Index, as compared with 48 states in in the third quarter of 2013.
In order of home price appreciation, the top five states with highest growth in home prices were Nevada, California, Arizona, Oregon and Florida. These calculations were seasonally adjusted and based on home purchases only.