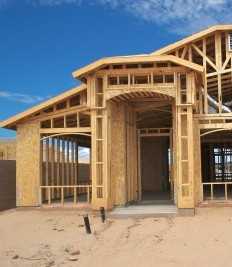 Many times real estate market experts point to the feelings of the nation's home builders as a bell-weather signalling the health of the housing sector.
This month's reading indicates that home builders are feeling pretty good.
The National Association of Home Builders / Wells Fargo Housing Market Index (HMI) for February changed by one point to 46 as compared to 47 for January's reading.
Over the last four months, HMI readings have stayed within a three-point range between 45 and 47, indicating a plateau after rising from 25 to 45 in 2012.
Housing Market Index Near Highest Levels Since 2006
The good news is that February's reading remains near the HMI's highest level since April 2006, when the HMI reading reached 51.
Some builders may be taking a wait-and-see stance in their confidence as high national unemployment rates and rising costs for building materials impact home buying ability and home prices.
Regional factors influencing builder confidence include difficulties in finding building sites and labor required for building new homes.
3 Important Categories Affect The Home Builders Index
The HMI is a seasonally-adjusted index comprised of three survey categories of home builder confidence.
Readings above 50 indicate that more builders are finding conditions good than bad within each category and overall:
Builder confidence in current new single-family home sales fell by one point to 51 in February, but sustained a positive rating.
Builder confidence in new single-family home sales over the next six months achieved a reading of 50 in February, up from 49 in January.
Builder confidence in foot-traffic in new single-family homes fell by four points from 36 in January to 32 in February.
February results for four regional categories consist of 3-month moving averages for new home sales: the Northeast gained 3 points to 39, The West gained 4 points to 55, the Midwest fell 2 points to 48 and the South fell by 2 points to 47.
With demand for homes increasing, home prices and mortgage rates are likely to rise during spring and summer as warmer weather brings out more potential buyers.
Check with your real estate and mortgage professional for the most updated market details in your area.