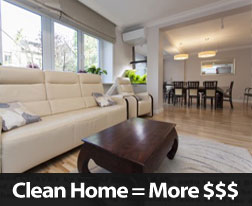 A clean, uncluttered home is very likely the single most important thing to get your home sold quickly and for top dollar.
In fact, a recent survey by HomeGain showed a whopping 568% return on investment for money put toward cleaning and organizing a home for sale!
And other experts say that a well-put-together home can shorten the time on market drastically as well.
Before your real estate agent lists your Santa Clarita home, it's essential for it to look its best.
7 Tips To Get Your Home In Tip Top Selling Condition
Examine your living space and see it as a buyer would — then double check this list of staging tips to make sure you haven't overlooked these important details.
Clear out the clutter. Tidy up counter tops, bookcases, garages and closets.
Pack up your sentimental items. Personal photos and knick-knacks should be boxed up for moving day.
Get a storage unit. Open up space by moving furniture and boxes into storage — it will make the rooms appear bigger.
Remove appliances and fixtures that you want to keep. If you are taking the dining room chandelier or the built-in microwave, remove them before the house goes on the market.
Make minor repairs. Check that faucets don't leak, doors close properly and holes in the walls are patched.
Make it pretty! Windows, floors and bathrooms should be sparkling. Dust every surface, hang up fresh towels in the bathroom and make sure there are no lingering odors.
Don't forget the yard. Curb appeal starts at the curb — go figure — so mow the yard, wash down walkways and add some bright flowers near the front door to trigger the emotion to buy.
There are so many different ways to give your home an advantage over the competition in the spring buying market.
Plus, nice looking properties are more appealing for real estate agents to show their clients, so your well-taken-care-of home may get a lot more exposure.
In the end, the better your property looks, the faster it's going to sell…and get you the most for it.