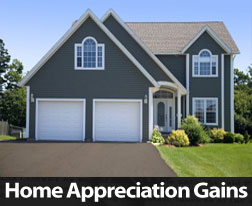 Home prices rose slightly in December according to S&P Case-Shiller Home Price Indices released Tuesday. According to the S&P Case-Shiller 20-City Home Price Index, which covers cities representing all nine US Census divisions, home prices rose 5.40 percent year-over-year in December as compared to November's reading of 5.20 percent.
December's year-over-year home price increases were led by Portland Oregon at 11.40 percent, San Francisco, California at 10.30 percent and Denver, Colorado with a year-over-year reading of 10.20 percent. 10 cities reported higher home prices while eight cities reported lower home prices and year-over-year home prices were unchanged for two cities.
Year-over-year national home prices equaled winter 2007 home price levels, The S&P Case-Shiller 20-City Home Price Index has recovered by 36.30 percent since March 2012. Phoenix, Arizona posted its 12th consecutive month of home price gains for the longest streak of price gains in 2015.
Home Price Growth Surpasses Core Inflation Rate
David M. Blitzer, chairman of the Index Committee at S&P Dow Jones Indices, said that while home prices continue to rise, they are rising at a slower pace. All but one city (Washington, D.C.) posted home price gains higher than the core inflation rate of 2.20 percent. Home prices rising faster than inflation is positive for home sellers, but would-be-buyers may sit on the sidelines due to concerns about affordability. On the plus side, job markets are strong and mortgage rates remain low, which will likely encourage more first-time and moderate income buyers to enter the market.
S&P Case-Shiller Month-to-Month Readings
After seasonal adjustments, both the Case-Shiller 10 and 20 City home price indices posted a month-to-month gain of 0.80 percent. 19 of 20 cities posted month-to-month gains after seasonal adjustments. Factors contributing to higher home prices include high demand for homes coupled with a short supply of available homes. Home builders are ramping up construction, which should ease demand and help stabilize prices.
In related news, The National Association of Realtors reported that January sales of existing homes rose to 5.47 million sales on an annual basis as compared to expectations of 5.30 million sales and December's reading of 5.45 million sales. January's reading was 11 percent higher year-over-year and indicated that homes are selling in spite of rapidly rising prices in many areas.
Analysts said that the shortage of homes is causing an imbalance in market conditions; currently there is a four month supply of available homes as compared to an average six month supply of available homes. There have been only three instances when home supplies were lower in the past 16 years.